Intro: Trail Tumbler
Sale
Up near the very top of the rankings for modern, high-end tumblers is the Ozark Trail. This is a very good tumbler which is made from high-quality, double-walled stainless steel. As far as I am concerned, there is absolutely nothing wrong with the Ozark Trail as a versatile tumbler, and it presents a strong argument for being one of the very best on the market. It is durable, reliable, and generally a great product.
Neat Features
I have found that it works equally as well for hot drinks as it does for cold drinks. The thick, sturdy insulation keeps the temperature from impacting your hands when you hold it, so even the coldest drinks won't make your hands any colder than the usual surface of the tumbler, and the same goes for hot products.
Ozark has a deal with Wal-Mart, which is part of why they are able to churn out quality outdoor gear for a super cheap price. And when I say "super cheap" I mean "SUPER cheap." Compared to the previous standard leader in tumblers, the YETI, this comes in at about 75% cheaper… To me, that is absolutely mind boggling, and the resourcefulness of Ozark for making this a reality continually impresses me. These can be purchased for well under $20, and they are seriously good to have around for all sorts of activities.
Conclusion – I Love it!
For a long time, it was agreed that YETI was the best in tumblers, but products like the Ozark Trail continue to work towards shaking that reputation away from YETI. The Ozark Trail looks almost identical, functions just as well, literally has identically strong features, and can be purchased for 25% of the price. The only significant difference I could tell, other than the much lower number on the price tag, was the name on the bottom of the tumbler. If you prefer quality to stuffy nosed name brands and are looking for the best value, as in you want the most positive features for the least amount of money, you will absolutely love the Ozark Trail.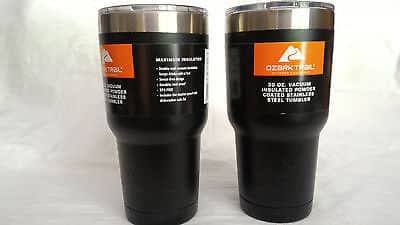 I recommend this brand without a moment of hesitation to anybody who is looking for a durable, well-built, well-designed tumbler that allows them to consistently bring their hot and cold drinks around in a container that is easy to use and totally effective in retaining the temperature of their beverage to the best standard possible. Needless to say, I really like this tumbler.
Summary
Reviewer
Review Date
Reviewed Item
Ozark Trail 30 oz. Tumbler
Author Rating